Camilla Dahlin and Katja Nord came up with the idea to start an Abba tribute band together in 1996. They asked for Bjorn Ulvaeus and Benny Andersson's permission and got it. They decided on the name Waterloo. They have run the group since then alongside with taken the roles as Agnetha Fältskog and Anni-Frid Lyngstad on stage.
Their goal was to be as similar to the originals as possible to give the audience a feeling of seeing the real ABBA on stage again! In 1999 they had their breakthrough in a popular Swedish TV show called "Sikta mot Stjärnorna" which was a sing and look-alike competition. It took them onto the European finals in Manchester – "Stars in Euro Eyes".
Nothing is left to chance, they make their own clothes to look just like ABBA's and have the true original sound for the real ABBA experience. This is an never ending process. 2001 Camilla & Katja started an cooperation together with CSB and "THE SHOW – A TRIBUTE TO ABBA". Quality is very important and is their trademark and thanks to that they was honorably described by the official ABBA fan club in Holland as "the best ABBA since ABBA".
In 2006 Waterloo celebrated their tenth year anniversary, which took place at Hotel Rival in Stockholm. Owe Sandström, the creator of ABBA's fabulous stage clothes, kindly participated – and for the first time decorated the stage with original ABBA stage clothes. During the celebration the original ABBA musicians Ulf Andersson, Lasse Wallander and Roger Palm joined in on stage. It was an unforgettable night!
In THE SHOW – A TRIBUTE TO ABBA, Camilla and Katja have the main responsibility for the band and are responsible for how the show is built up, including everything from writing the manuscript to sewing the stage clothes.
Camilla and Katja have been fans of ABBA ever since the big breakthrough in 1974. Camilla was invited to the recording of the music video of "Thank you for the music" and is also featured in the video.
Camilla and Katja started singing together as teenagers. They have been lead singers in different bands and are influenced by many different types of music, such as pop, rock, jazz and folk music. They have also sung back vocals for many different artists and have produced a CD in 1994 with children's songs. This was accompanied with a successful show in 1997 called "Trollpackan" which was intended both for children and their parents. For this they received an honorable scholarship from Stockholm's county.
Camilla and Katja have toured all over the world with THE SHOW – A TRIBUTE TO ABBA and have sold out arenas, such as Hollywood Bowl, Royal Albert Hall and Wembley and to mention one in Sweden, Dalhalla was a great experience.
In the future they plan to continue with the wonderful and grateful job of letting ABBA's music live on with a great deal of respect for its quality. And they hope to spread joy to ABBA fans all over the world with their tour THE SHOW – A TRIBUTE TO ABBA.
Said about Waterloo:
The ABBA-Fanclub
"When we first watched THE SHOW, we were rather impressed. You can see that Katja and Camilla are ABBA fans, too; they really have studied Frida and Agnetha's movements and ways of presenting the songs in great details. The orchestra and the entire show are excellent and, of course, it is fantastic to see guest appearances by real ABBA musicians. We have seen ABBA THE SHOW on a number of occasions, and enjoyed it tremendously each time. It almost feels like being at an ABBA concert and takes you back in time. We recommend all ABBA fans to see this show – ABSOLUTELY THE BEST ABBA SINCE ABBA.
Kind regards
Helga van de Kar Chairman of THE OFFICIAL INTERNATIONAL ABBA FAN CLUB"
Mats Ronander (guitarist and vocalist on the ABBA tours):
"I think THE SHOW is the best ABBA cover act that has ever been done! The band is very professional and the production is awesome!"
"It is fun to play this lovely music again. It was over 30 years ago!"
Ulf Andersson (saxophone player on 'I do, I do, I do, I do, I do' and on ABBA's world tours):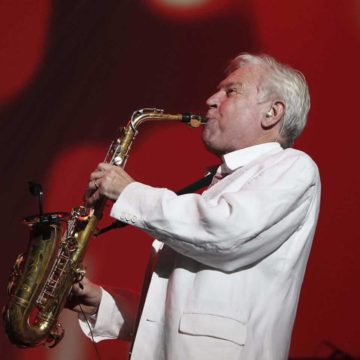 "The receptions from the audiences are similar to what we experienced back in the Seventies"
"It feels stimulating to bring back the memories and the opportunity, for a second time in life, to work with the music of one of the world's most successful bands."
Finn Sjöberg (guitarist on ABBA tours and on hits like 'Mamma Mia'):
"The show is performed with the serious ambition to put on a show the way ABBA would have"
Janne Schaffer (guitarist on most ABBA albums)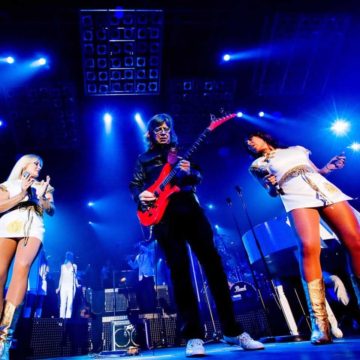 "My favourite moments in the show are the guitar solo on Eagle, which I recorded with the real ABBA and when I get the chance to tell the audience a little bit about the real ABBA"
Lasse Wellander (ABBA's main guitarist on tour and records)
"The group really manages the heritage from ABBA in a serious and elaborated way"
"THE SHOW belongs to the absolute 'crème de la crème' of ABBA cover bands"
Roger Palm (drummer on Dancing Queen and many other ABBA hits)
"Waterloo with Katja & Camilla was the first Abba Tribute-band I`ve heard and worked with and I was amazed how they managed to sound like and look like the original Abba from the 70's. It has been a pleasure to work with Waterloo ever since, and it still is."